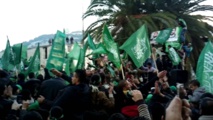 A Hamas security official, speaking to dpa on the condition of anonymity, said Wednesday that the Islamist group agreed with an Egyptian request to gradually stop the kites and balloons over the next two days.
In recent months, rudimentary flaming kites and balloons have proved to be the most damaging Palestinian action taken during a wave of Hamas-led protests. The projectiles have burned more than two dozen kilometres of Israeli land, and the Israeli army has struggled to respond amid calls from right-wing politicians for more forceful action.
In a bid to pressure Hamas, the Israeli army has blocked the movement of commercial goods to and from the embattled enclave indefinitely, and halted gas and fuel shipments until Sunday.
"We are in a campaign that entails an exchange of blows, and I can tell you that the [Israeli army] is ready for any scenario," Israeli Prime Minister Benjamin Netanyahu said Tuesday.
An Israeli army spokeswoman declined to comment on Israeli reports that the army was preparing to enter Gaza, but said the military is conducting routine preparedness drills.
Hamas, considered a terrorist group by Israel and much of the West, seized control of the Gaza Strip in 2007. Since then Israel and Egypt have maintained a blockade of the territory, citing security measures.
Israel and Hamas have fought three wars in the past eleven years.