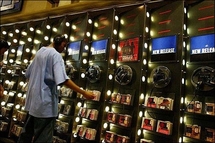 Overall album sales, which take into account individual song downloads equivalent to an album, fell 8.5 percent in 2008 to 535.4 million units from 584.9 million in 2007, Nielsen said.
Sales of digital albums rose 32 percent to 65.8 million units in 2008 from 50.0 million in 2007 but CD sales dropped by nearly 20 percent in 2008 to 360.7 million units from 449.5 million in 2007, Nielsen said.
CD sales continue to account for more than 80 percent of album sales in the United States but they have been declining steadily as digital downloads and music piracy on the Internet sends fewer people to music stores.
Nielsen said the number of digital tracks sold through services such as Apple's iTunes and Amazon.com topped one billion units for the first time in 2008, with 1.07 billion units sold, up 27 percent from 844.2 million in 2007.
Surprisingly, the number of vinyl LP albums purchased in 2008 rose to 1.88 million units, up from 0.99 million in 2007, Nielsen said, adding that most of the vinyl purchases were from independent record stores.
Nielsen said the top-seller of 2008 was Lil Wayne's album "Tha Carter III," with 2.87 million copies sold, followed by Coldplay's "Viva la Vida," with 2.14 million and Taylor Swift's "Fearless" with 2.11 million.
Universal Music Group sold the most albums in 2008, taking a 31.5 percent market share, followed by Sony BMG with 25.3 percent and Warner Music Group with 21.38 percent.
--------------------
Image of man listening to new releases by Spencer Platt.