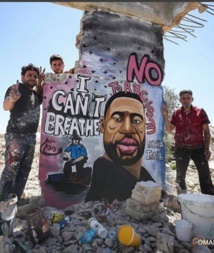 "We are advocates of peace and freedom ... and we believe it is our duty to stand in solidarity with the humanitarian causes of the world," Syrian painter Aziz al-Asmar, 48, painted on the wall of a damaged house in his Idlib hometown of Binnish.
Floyd, 46, died after being arrested and pinned to the ground by police in Minneapolis, Minnesota. The arrest has sparked protests across the US and abroad.
The graffiti, created by al-Asmar and a friend, shows the face of Floyd and next to it written in English: "No To Racism" and "I cannot breathe," a phrase which Floyd was repeating while the police officer was kneeling on his neck on the ground.
Al-Asmar told dpa that there was a link in the minds of Syrians between death by strangulation in the United States and death by inhaling chemicals in Syria.
Syrian President Bashar al-Assad is accused of using chemical weapons to kill Syrian civilians in rebel-held areas in the war-torn country.
"We chose the destroyed walls because they are stronger in delivering messages to sympathize with the oppressed peoples," al-Asmar said.
Graffiti has developed into a popular art form in Syria where artists can express the misery of the civil war, which started in 2011.