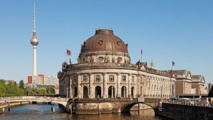 The first to open their doors again are the Alte Nationalgalerie, the Altes Museum and the Pergamon Panorama, all located on Museum Island, a UNESCO world heritage site normally brimming with tourists at this time of year.
The Gemaeldegalerie art gallery, located near Potsdamer Platz, will also reopen, with the exhibition "Pop on Paper," featuring works by Andy Warhol and Roy Lichtenstein, on display to welcome back the public.
Museums across Germany first closed their doors on March 14, as sweeping restrictions set in nationwide to curb coronavirus infections.
Berlin follows several other German states to have gradually reopened museums, along with shops, schools, restaurants and some leisure facilities.
In order to visit the museums in Berlin, guests must wear a mask on the premises and stick to strict hygiene and social-distancing rules. Tickets come with a time slot, to prevent the galleries from getting too crowded.
In a normal year, Museum Island attracts around 3 million visitors.