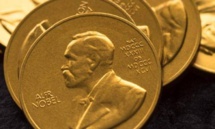 Stockholm

-
By Lennart Simonsson
-
The Nobel prizes are to go ahead this year despite the coronavirus pandemic posing a special challenge for organizers and prize-giving bodies.
"In March (and) April we were worried we would not even be able to choose any laureates this year," Lars Heikensten, executive director of the Nobel Foundation, told dpa.
The foundation manages the assets of Swedish industrialist and dynamite inventor Alfred Nobel, who created the prizes in the fields of literature, medicine, physics, chemistry, and peace.
"We stand for knowledge, we stand for science, we stand for peace - these are things that are perhaps particularly important these days," Heikenstein said.
Winners of the 2020 Nobel awards are to receive more money. The foundation said each prize will be worth 10 million kronor (1.1 million dollars), compared to 9 million kronor in past years.
The pandemic has prompted some adjustments to the famed prizes.
The December 10 award ceremonies in Oslo and Stockholm have been scaled down due to the pandemic.
Banquets for laureates have cancelled, and winners in the fields of medicine, physics, chemistry, literature and economics will receive their awards from home rather than in Stockholm.
A limited number of guests will be invited to the peace prize ceremony in Oslo, though it is not clear yet whether the laureate or laureates will attend.
The Nobel prize week itself opens, as in previous years, with the medicine prize on Monday, October 5. It is followed by the physics prize on October 6, chemistry on October 7, literature on October 8, and peace on October 9.
Economics - not one of Nobel's original prizes - rounds off the announcements on October 12.
Last year, the Swedish Academy announced two Nobel Prizes in Literature - for Polish author Olga Tokarczuk for the year 2018, and Austrian author Peter Handke for 2019 - after it had postponed the 2018 award due to a sexual assault scandal and alleged conflicts of interest.
This year, 197 candidates were considered for the literature award, of which 37 have not previously been nominated, the Swedish Academy informed dpa. Guesswork is tricky, given that the academy does not publish a shortlist. Previous surprise choices have included US singer-songwriter Bob Dylan in 2016.
The nominations - and deliberations - for all Nobel prizes are sealed for 50 years.
Somewhat more information is available for the Nobel Peace Prize, as some nominators - people including lawmakers, academics and former peace laureates - announce their proposals.
The Norwegian Nobel Committee, which selects the peace prize recipient, received 318 nominations this year of individuals as well as organizations, the fourth-highest tally since the first award in 1901.
Among the 211 proposed individuals is Swedish climate activist Greta Thunberg. The 17-year-old was also nominated last year for inspiring a global movement calling for action on climate change.
Pro-democracy activists in Hong Kong were proposed by lawmakers in Norway and the United States. Members of the German Left party nominated US whistleblower Edward Snowden for disclosing mass surveillance programmes in the US, WikiLeaks founder Julian Assange and former US military intelligence analyst Chelsea Manning, who worked with Assange to leak a trove of classified material in 2010.
In 2019, the five-member committee picked Ethiopian Prime Minister Abiy Ahmed for his regional peace efforts.
Judging from online bets, Thunberg is a strong contender this year, as well as the World Health Organisation (WHO) for its efforts to tackle the pandemic, and US President Donald Trump.
It is not known if Trump has been nominated this year. Several researchers told dpa they were doubtful of Trump's chances.
"I just don't see it," said Dan Smith, director of the Stockholm International Peace Research Institute, citing Trump's pulling out of the 2015 Iran nuclear deal and the Paris climate agreement.
Smith said the Nobel committee could be considering an award for human rights or climate change, as there were few signs of progress "in the world of conflict, peace and security."
He said there is "a distinct connection between climate change and peace" due to the impact on political stability and people's wellbeing. This could motivate an award to Thunberg or other activists and organizations.
Henrik Urdal, director of the Peace Research Institute Oslo (PRIO), made a case for an award for press and media freedom, mentioning the New York-based Committee to Protect Journalists (CPJ).
"Journalists are often on the frontline, reporting about war and peace," he told dpa, adding that the international community needs "accurate information" to assess and respond to conflicts.
Peter Wallensteen, senior professor of peace and conflict research at Uppsala University, suggested a possible prize for independent media "often under pressure and amid the 'fake news' debate," or for the anti-corruption watchdog Transparency International.