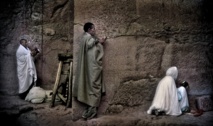 The grand prize is awarded to the best work that presents innovative creative ideas in the

main theme, this year signifying 'Decisive Moment'.

From a staggering selection of 35,985 submissions, the grand prize was awarded to Italian

photographer Cristina Garzone for her poignant shot which captured 'Pilgrimage to Lalibela',

earning Garzone an FIAP gold medal and an AED80,000 cash prize, while Belgian Rob Van

Thienen won the Best Portfolio Award for his collection of dynamic 'Dog Racing' images,

together with a AED20,000 prize and FIAP gold medal.

"Our aim is to encourage photographers to research and work on new creative ideas

inspired by the 'Decisive Moment' theme. The resounding international, regional and local

interest in this edition of the competition has clearly excited photographers, professional

and amateur, to creatively and intuitively capture an intimate and compassionate view of

humanity," said Badar Al Nomani, Emirates Photography Competition Supervisor, TCA.

"The foundations of the Emirates Photography Competition are deeply rooted in education

which aims to develop UAE photography and attract talented artists to reflect upon and

foster the concept of understanding cultures. Our investment in this talent will facilitate the

growth of a cultural and artistic eco-system for Abu Dhabi," Al Nomani added.

Other winners in the 'Main Theme' category include Hui Ling Fan from Taiwan

whose work 'Balancing Act' was awarded first prize, an FIAP Gold medal and

AED20,000; 'Fellowship' by Greek photographer Costas Symiakakis took home an FIAP silver

medal and AED15,000 for second spot; with an FIAP Bronze medal and AED10,000 awarded

to 'The Happy Generation' by Chinese photographer, Min Ying.

This year's main theme – 'Decisive Moment' – is inspired by Turkish born artist YUSOF

KARSH and his work, celebrating the importance of research, study and reflection. His

body of work includes portraits of statesmen, artists, musicians, authors, scientists, and

men and women of accomplishment, and his selection for the 8th

reflects an indelible artistic and historic record of the men and women who shaped the

twentieth century, and his role in influencing a new generation of Arab and international

photographers.

In addition to the main theme, submissions were invited on seven themes - Nature, Creative,

Travel, Colours, Future Image by Future Eyes, Monochrome and Colour photo print – and

featured panorama, modern technical artistic processes, digital photographic artwork and

printing works.

The contest is held under the auspices of the International Federation of Photographic Art

(FIAP) and with the recognition of the Photographic Society of America. The EPC is also

licensed by the United Photographers International.

The Competition's goal is to develop photography in the United Arab Emirates by attracting

regional and world photographers to reflect a diversified image of Abu Dhabi and the UAE,

and the world's rich and diverse cultures.

A jury of international experts, including acclaimed Arab photographers - consisting of Saeed

Al Shamsi (UAE), Manolis Metzaki (Greece), Ayman Lotfy (Egypt), Zhou MeiSheng (China),

and David Tay (Singapore) - met in Abu Dhabi between 20-25 January 2014 to evaluate

entries according to a rigorous grading system to ensure the winning pool met the highest

technical standard.

The winning photographs will go on show to the general public in a two-month exhibition,

which will runs until 16 August at Manarat Al Saadiyat exhibition centre on Saadiyat Island,

Abu Dhabi. The winning entries will also be featured in a limited edition book, which over

the past three years has won 5+ star FIAB catalogue rating and a recognition from the

Photographic Society of America and the United Photographers International Organisation.

In addition to attracting entries from an international pool of talent, the competition also

works consciously and holistically to develop UAE photographers and artists to advance

photographic art in the UAE, where Abu Dhabi is the largest of the country's seven emirates

and home to its capital city.

Each year, the competition runs the Noor Ali Rashid Award for the Emirati Photographer -

a special accolade which pays tribute to Noor Ali Rashid (1929 – 2010) who was a leading

figure in photographic art in the UAE and whose work has contributed to the documentation

of life within Emirati society. The 2013 honouree Nasser Haji Malek was selected for his

portfolio celebrating local, environmental and cultural symbols of the UAE, earning him an

FIAP gold medal and AED30,000.

To complement the main exhibition theme, revered artist Tarek Al-Ghoussein, Artistic

Director of Emirates Photography Competition's 8th edition has curated works by four

invited artists - Lamya Gargash, Reem Falaknaz, Shahidul Alam and Yasser Alwan - in a

parallel exhibition that will discuss and investigate a Decisive Moment in their daily lives.

Lamya Gargash presents images from the "Familial" series, which was first exhibited in

the UAE Pavilion as a solo show at the 55th International Art Exhibition of La Biennale

di Venezia. Reem Falaknaz's 'The Place of Perpetual Undulation' reflects "study" and

"exploration" forming a very personal portrait of a specific place. Shahidul Alam's work has

been instrumental in facilitating education, employing photography as a tool for activism

and political understanding, while Yasser Alwan has spent several years producing work

that has allowed him to develop a deeper sensitivity to and relationships with Egypt and its

people. A series of specialised workshops, seminars and talks will accompany the exhibition.

The Emirates Photography Competition exhibition runs at Manarat Al Saadiyat

Exhibition Centre, Saadiyat Island, Abu Dhabi from 13 May-16 August, 2014. Visit

www.saadiyalculturaldistrict.ae for more information and details of the parallel exhibition,

including the programme of designated workshops, talks and seminars.

Full details of prize winners and a selection of winning images can be found at

www.emiratesphotocompetition.ae

About Abu Dhabi Tourism & Culture Authority

Abu Dhabi Tourism & Culture Authority (TCA Abu Dhabi) conserves and promotes the

heritage and culture of Abu Dhabi emirate and leverages them in the development of

a world-class, sustainable destination of distinction which enriches the lives of visitors

and residents alike. The authority manages the emirate's tourism sector and markets the

destination internationally through a wide range of activities aimed at attracting visitors and

investment. Its policies, plans and programmes relate to the preservation of heritage and

culture, including protecting archaeological and historical sites and to developing museums,

including the Louvre Abu Dhabi, Zayed National Museum and Guggenheim Abu Dhabi. TCA

Abu Dhabi supports intellectual and artistic activities and cultural events to nurture a rich

cultural environment and honour the emirate's heritage. A key authority role is to create

synergy in the destination's development through close co-ordination with its wide-ranging

stakeholder base.