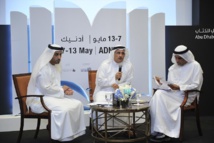 "ADIBF has made remarkable progress over the years in terms of scale, professional practices in organisation, participation calibre and levels of its discussion panels. ADIBF was established in 1981 under the designation of the Islamic Book Fair, following the directives of the late Sheikh Zayed bin Sultan Al Nahyan, the founding father of the UAE. The launch of the fair at such an early stage of the country's development as a nation sends a compelling message that reflects his future-oriented vision of building the UAE on science, knowledge and education, thereby making the country an oasis for cultural exchange, diversity, tolerance and the unique blend of originality and modernity," said H.E. Juma Al Qubaisi, ADIBF Director and Executive Director of the National Library division – TCA Abu Dhabi.
"The vision of the late Sheikh Zayed was exceptionally inspiring in his understanding of culture and his firm belief in knowledge and the boundless abilities of the UAE's citizens and residents alike," he added.
This year, ADIBF marks its Silver Jubilee by celebrating the life of the late Sheikh Zayed as the fair's focus personality and the Republic of Iceland as the Guest of Honour, in addition to a manifold cultural and professional programme that lives up to the expectations ADIBF's audience that has a wide spectrum of interests.
"ADIBF has grown by 20 percent compared to last year with its total area amounting to 31,962 square metres and covering all ADNEC's halls and pavilions to accommodate 1,181 publishing houses from 63 countries. ADIBF 2015 will be welcoming 130 new publishers with exhibitors from Croatia, New Zealand, Poland, Colombia and Georgia taking part for the first time. This speaks volumes of the ADIBF's importance for international publishers who look forward to entering new markets that respect publishing traditions and support the book industry," added Al Qubaisi.
In a step to support career development in publishing and foster small publishing houses to grow their businesses, ADIBF 2015 will focus on enabling those who aspire to enter the sector by launching the ADIBF Academy initiative that will issue specialised certificates through the fair's professional programme. Attending a series of workshops qualifies participants to obtain a valuable certificate that helps them to enter the industry as professionals across a wide array of specialisations including marketing, design or education.
Characteristic Cultural Programme
Dr Ali bin Tamim, Executive Director of the National Library Division at TCA Abu Dhabi, pointed out that ADIBF made a quantum leap towards the highest standards of professionalism in the book industry and building a cultural platform that brings writers and publishers together, shortens the distance between authors and readers, builds cultural communication bridges between international publishers and translators and raises the ever-present discussion about the cultural reality in the Arab World and the world in general.
A series of seminars and discussions will be held hosting a number of authors, intellectuals and experts who have made a deep impact in their areas of specialisation, in an effort to enhance constructive dialogue and leave a long-lasting impression as visitors of the region's fastest growing book fair embark on their quest for discovering the next powerful, assiduous work.
"ADIBF 2015 will feature American writer and educator Cynthia Bond, author of the highly acclaimed novel Ruby; Jonah Tell who will introduce the audience to his 100 Ways to Save the World; Indian novelist Altaf Tyrewala, one of Penguin India's best-selling authors; and German novelist and filmmaker Eugen Rouge," added bin Tamim.
Celebrating several international books recently translated into Arabic, TCA Abu Dhabi's Kalima Project has an eventful schedule of its own this year at ADIBF 2015 including a meeting with British biologist Lewis Wolpert, author of Malignant Sadness – the Anatomy of Depression; a discussion of the novel Call Me Gogol as a model for educating emigrants; a meeting with Dwight F. Reynolds, co-author and editor of Interpreting the Self: Autobiography in the Arabic Literary Tradition; and a discussion of the life of German orientalist Annemarie Schimmel and her books after translation into Arabic.
Dr bin Tamim also states
that ADIBF 2015 will present rare aspects of resemblance between the Arabic and Japanese cultures, while editors of Arabic cultural magazines discuss the role of literary media in the digital age. An important seminar will also tackle the relationship between national identity and literature in light of Scotland's independence referendum last year. Furthermore, ADIBF 2015 will shed light on the Berlin Wall as a symbol of transformation for the German identity, twenty-five years after its fall. Another seminar will introduce the life and works of French novelist and recipient of the 2014 Nobel Prize in Literature, Patrick Mondiano.
"ADIBF's rich cultural programme will include poetry evenings in Arabic, English, Spanish and Icelandic languages and discussion panels on the evolutionary nature of Calligraffiti and Arabic Kufi calligraphic script. Music evenings, one of ADIBF's original components, will also be present, complementing the fair's goal to be an all-inclusive platform for all types of creative expression. Additionally, ADIBF's keen interest in children's books and education will be illustrated by the many children-oriented events and activities," said Mohamed Al Shehhi, Director of Research & Publication at TCA Abu Dhabi.
ADIBF's cultural programme offers a significant opportunity to discuss a wide range of ideas and issues by intellectuals from East and West, who will probe the dimensions of cultural exchange and the value of symbolism past and present. The epic "journeys" of Arabic voyagers such as Ibn Fadhlaan and Abi Zaid Al Sayrafi who reached the Volga River to the north and India to the east will be revisited, and the problematic issues of receiving Arabic culture in western universities interested in Arabic studies will be highlighted. Moreover, ADIBF will address the role of Al Azhar in promoting the values of dialogue, and the topic of Arabic women and novel writing.
The Abu Dhabi International Book Fair 2015 will launch on Thursday 7 May, opening its doors to the public at 11:00am. Thereafter, the fair will open daily from 9:00am – 10:00pm, except on Fridays from 4:00 – 10:00pm.