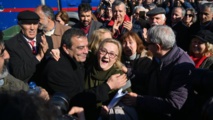 On Tuesday, Kavala, along with eight other defendants, was cleared of all charges - including attempting to overthrow the government-linked to 2013 protests against a government plan to redevelop a central Istanbul area, including the Gezi Park.
The court ordered Kavala's release from Istanbul's Silivri prison, where he had spent almost two-and-a-half years.
He was, however, rearrested on the same day after Istanbul's prosecutor issued a new warrant in a separate investigation against Kavala, this time linked to the failed 2016 coup attempt in Turkey.
Kavala said he hoped that the "baseless scenario" in the Gezi trial would help identify problems and improve the judiciary.
"However, unfortunately, the president's intervention prevented such an opportunity. Following that, I was arrested again in an even more unlawful way and with an irrational accusation," Kavala said in a statement released on Friday.
He rejected the coup charges as "irrational," adding "I hope this new unlawfulness will not last long."
On Wednesday, Erdogan called supporters of the Gezi environmental movement enemies of the state, comparing the protests to coups and terrorist attacks.
"And with a manoeuvre, they tried to get him acquitted," Erdogan said, without naming Kavala.
Hours later, Turkey's Council of Judges and Prosecutors (HSK) began investigating the judges in the Gezi trial.