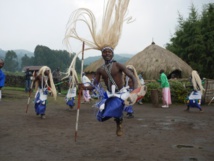 Some 24 million African families' livelihoods are linked to tourism - formally and informally - on the continent, where tourism makes up almost 10 per cent of gross domestic product (GDP), AU commissioner Amani Abou-Zeid told journalists during a briefing.
"The blow is very hard between economic losses, job losses and impact on livelihoods," said Abou-Zeid.
Africa's airline industry is one of the most affected sectors within the tourism industry, with currently 60 per cent less planes operating, said Prosper Zo'o Minto'o, West and Central Africa director of the International Civil Aviation Organization (ICAO).
"Rough estimates show 20 billion dollars are needed to get African airlines back into the skies," Minto'o added.
It remained to be seen how many of the continent's airlines will survive the economic crunch caused by the Covid-19 pandemic, especially those, including South African Airways, who already struggled to be financially viable before the crisis hit, according to Abou-Zeid.
Some profitable African airlines, such as Ethiopian Airlines, were however using the opportunity to acquire smaller airlines on the continent, the commissioner added.
Senegal is expected to be the first African country to re-open international air travel on July 15.
Abou-Zeid also highlighted that African nations could use the pandemic as an opportunity to strengthen inter-African air transport, trade and tourism, for example by lowering fees for African nationals and easing visa regulations "to help cushion some of the serious impact."
The African continent has currently reported more than 413,000 cases of Covid-19, with South Africa accounting for almost 160,000 of those, according to the World Health Organization (WHO).