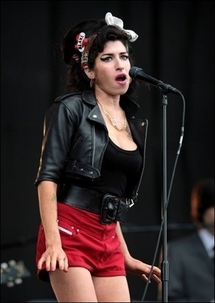 The 25-year-old singer was arrested with her husband Blake Fielder-Civil and her hairdresser in the western Norwegian city of Bergen in October 2007 after they were caught with seven grammes of marijuana in their possession at a local hotel.
Winehouse was released after paying a 3,000-kroner (294-pound, 430-dollar) fine, which she later contested.
Agreeing to pay a fine in Norway is the equivalent of admitting to the charges, which could make it difficult to obtain visas in the future -- as was believed to be the case for Winehouse when she was initially refused permission to travel to the United States to attend the Grammy awards show last February.
Winehouse had been due to appear in a Bergen court at the beginning of the year, but the case was postponed since Fielder-Civil was in jail in Britain and could not attend.
"Her husband has already been summoned. We were just waiting for her to receive her summons," Christoffersen said, adding that British police had yet to locate Winehouse's hairdresser.
"We expect he will receive his summons before January 12," he said.
Winehouse is fighting drug and alcohol problems and has suffered a string of health scares since apparently being caught smoking crack cocaine in footage released by The Sun newspaper last January.