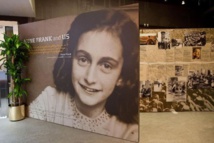 Albert Gomes de Mesquita, 89, and Jacqueline van Maarsen, 90, were in the same class as Anne at the Jewish Lyceum. They visited her apartment in Merwedeplein to celebrate her 13th birthday on June 12, 1942, just three weeks before the family went into hiding.
It was on that birthday that Anne received her first red-checkered diary, which she wrote in while hiding from the Nazis between 1942 and 1944. She died in the concentration camp at Bergen-Belsen in 1945 at the age of 15. Her father Otto, the only family member who survived the war, published the diary after her death.
The Amsterdam apartment where the Frank family once lived, at Merwedeplein 37-2, is now offered to foreign writers who are not allowed to work in their home country. The home where the family later went into hiding in a secret annex, at Prinsengracht 263, has been turned into a museum.
In New York, the United Nations marked Frank's birthday by dedicating a living tribute to her - a sapling descended from the Horse Chestnut tree outside the house where she hid with her family.
Sharon Douglas, the chief executive of the Anne Frank Center for Mutual Respect, said the tree represented a piece of Anne, in remarks at the dedication ceremony.
"This living sapling was grown from a cutting taken from the living horse chestnut tree that grew outside of Anne Frank's hiding place," Douglas said.
"Anne lived on one side of that window and the tree lived on the other side. The tree lived in the free air and represented to Anne a living symbol of hope and freedom," she added.
The tree is intended to be a symbol of hope and inspiration, and a reminder to educate against hatred and racism, according to the plaque unveiled at the ceremony on the north lawn of the UN grounds.
The plaque includes a quote from Frank: "Nobody need wait a single moment before starting to improve the world."