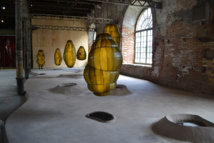 The fair, curated by Ralph Rugoff, director of the Hayward Gallery in London, opens to the public on Saturday and runs until November 24. Previews start a few days in advance.
During the Biennale, Venice is filled with sculptures and various installations in national pavilions and selected locations around the lagoon city.
Among this year's highlights, the wreck of a migrant boat that sank off Italy on April 18, 2015, killing at least 700, has been put on display as a monument to Europe's migration crisis.
The Barca Nostra (Our Boat) installation is a joint project by Swiss-Icelandic artist Christoph Buechel and regional and local Sicilian institutions.
The shipwreck was the deadliest sea migration accident of modern times. The boat was retrieved from the sea at the insistence of former Italian premier Matteo Renzi.
Elsewhere in Venice - actually inside a supermarket - US artist Kenneth Goldsmith is staging a performance consisting of the printing of 60,000 pages of Hillary Clinton's emails.
The emails, the subject of controversy during Clinton's failed 2016 US presidential bid, "are the greatest poem of the 21st century," Goldsmith writes on Twitter.
Another notable installation is "Building Bridges" by Lorenzo Quinn, son of the US actor Anthony. It consists of six pairs of giant hands clasping over a stretch of water to form a symbolic bridge.
It is a collateral event, not formally part of the Biennale.