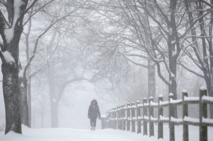 At least the sun was shining.
"I was surprised when I walked outside and my face hurt," said
Nick Dewlaney
, 39, a
California
native who visited
Montrose Harbor
[a Chicago neighborhood] with the temperatures still hovering well below zero. Using the frosted city as a backdrop, visitors with hoods up and selfie sticks out posed in front of a skyline clouded by suspended puffs of smoke rising off
Lake Michigan
.
Away from the lake, the temperatures were even colder. Aurora [in the outer region of Chicago metropolitan area] logged minus 32 and
Rockford
[115 kilometers north-east of Chicago] hit a record 31 below zero, making for its coldest temperature since the weather service started keeping records there in 1905, according to the weather service.
Elsewhere, health officials reported at least one cold-related death, at a hospital in the central part of the state, as a result of the deep freeze. And Chicago-area hospitals reported treating dozens of patients for frostbite or hypothermia.
The cold also contributed to numerous car crashes on ice-slicked roads and water main breaks throughout Chicago and the suburbs. Social service agencies scrambled to serve the homeless and those less fortunate, pairing up with city and county agencies to provide shelter from the life-threatening conditions.
Relief is finally on the horizon, with temperatures expected to rise above zero by Friday morning, with 40s forecast for the weekend. It won't come soon enough for
Jeffrey Young
, a homeless college student who normally lives in
Wheaton
. Young spent the cold snap near downtown
Glen Ellyn
, circling among the heated train station, a coffee shop and another open building.
Standing outside the station, he described surviving the days of ferocious cold as a near-spiritual exercise of patience and perspective.
"I just look at the fact that it's only for a few days," he said. "I can literally watch the day go by, and once it's over, I don't have to worry about it anymore. Today the temperature is forecast to get up to zero. Zero is going to feel warm compared to what it's been."
The face-freezing weather capped a days-long polar vortex cold snap that descended on the Midwest starting Monday night.
The Arctic
blast led to school cancellations, closed courts, thousands of flight cancellations, a stop on
US Postal Service
delivery and disruption of all Amtrak service, as well as scaled-back
Metra
and
Chicago Transit Authority
[CTA] service. With a warmup on the way, schools are scheduled to reopen Friday after two days of cancelled classes across the city and suburbs.
The cold caused plenty of headaches for those who still needed to travel to work.
South Shore and Metra Electric
trains were still out of service Thursday afternoon.
Metra Electric
service and the South
Shore Line
will be down for a third day on Friday, due to a combination of cold weather damage and power lines being hit by a derailed freight train.
The CTA only experienced minor delays throughout its system Thursday, with president Dorval Carter Jr. describing operations as going "fairly well."
With air temperatures lower than 20 below zero and a wind chill that made it feel like nearly minus 40, the Austin Green Line station on the border between Chicago and
Oak Park
was nearly deserted before sunrise.
Roy Townsel
, 49, was one of the few souls who rolled through the turnstiles on his way to work. The
Oak Park
resident said he called off the day before but decided to brave the frigid conditions Thursday so he wouldn't lose any more vacation time. By the time Townsel prepared to board the train, the area had endured 36 consecutive hours of subzero weather, with roughly 12 hours to go until temperatures reached zero again, according to the weather service.
"It feels colder than the
North Pole
right now," Townsel said, standing beneath a heat lamp as frost grew on the fibers of his Bulls skullcap. "This is like Chi-Laska."
Chicago's department of streets and sanitation had 200,000 tons of salt, treated with beet juice to help it bind to roadways, for the Thursday night rush hour. The city's water department worked on more than a dozen water main breaks during the cold spell, and the department also assisted residents with frozen pipes and lack of water.
A small fleet of five CTA buses were on the street overnight, providing a warm place for the homeless and vulnerable who did not otherwise seek shelter. Those buses served 160 people, said
Lisa Morrison-Butler
, commissioner of the
Department of Family & Support Services
. Five other buses were available at O'Hare. The buses were scheduled to be out again Thursday night.
Mayor
Rahm Emanuel
, who delivered doughnuts to water crews and visited with CTA mechanics Thursday morning, commended Chicago residents on their efforts to help elderly neighbors and those in need. But he warned people to continue to stay diligent.
"If you don't have to be outside, don't go outside," the mayor said during a late-morning news conference at The
Salvation Army's
Shield of Hope facility in
Humboldt Park
. "This is not just bad weather, it can be considered, we look at it as a public health risk."
During the cold snap, the city completed hundreds of building checks and thousands of well-being checks.
By Thursday, the department of buildings had worked through the cold snap to get heat restored to seven buildings, said
Gregg Cunningham
, spokesman for the department. The majority of the buildings where emergency actions were taken to restore heat were two-flat buildings that included one or two units without heat, Cunningham said. In an Englewood building, a family that included five children lived in a unit that lost heat during the cold snap, Cunningham said.
Winter supplies such as 50-pound bags of rock salt, space heaters and window insulation lined the aisles at Home Depot near the
Goose Island
neighborhood on the North Side as shoppers rushed inside to snap up products Thursday morning. One display by the store entrance featured everything a chilly resident might need to keep a home warm: rubber sealants, window insulation kits, draft busters for under the door and air conditioner covers.
Dan McGeehan
, 62, of Andersonville [a Chicago neigborhood], popped into
the Home Depot
to grab painter drop cloths to put over his leaky windows, hoping to stop the cold air from flowing inside. He said he hasn't gone outside much since the freeze hit but has been fighting off boredom by watching
Marx Brothers
movies.
"It's the best way to pass the time in the cold," said McGeehan, who works as an illustrator.
Notepad