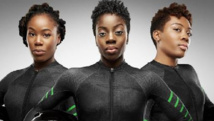 Pyeongchang, South Korea

-
It's not easy getting a four-man bobsled team to the Olympics, especially if you come from a country that spends most of the northern hemisphere winter down at the beach.
But somehow, Australia's Hayden Smith has managed to make the two worlds meet.
The 25-year-old Sydneysider spends half of his year as an accountant and the other half selling swimming trunks to fund his bobsleigh team.
Smith founded the company, Banana Hammocks, in 2014, selling Speedo-style men's swimming trunks online. He says the money he has raised since then has been crucial to helping his team get to South Korea.
"It's been a means to keep me on this journey," Smith said Friday, after his team's final training run. "Most of the new sleds that people are rocking here are around 100,000 euros (123,000 dollars) for the four-mans.
"For us, we just don't have that money. We are predominantly self-funded. We do get some help from the AOC (Australian Olympic Committee), which is massive, and a little bit from our federation.
"We do it on a shoestring and we make it stretch but our budgets would be a fraction of the cost of other teams that are here."
The dual business-athlete role does come with some distractions though. Smith is the main contact person on the company's website and still has to field orders now and then amidst training in Pyeongchang.
"I'm over here and I'm sending messages to mum and dad to ship off a pair of Banana Hammocks, it's very different that's for sure."
Smith holds the role of brakeman in Australia's four-man team, beside Lachlan Reidy, David Mari and driver Lucas Mata.
On Friday, the Australians clocked 50.64 seconds in their sixth and final run ahead of competition at the Olympic Sliding Centre. The time was over a second off the pace of the top contenders from Switzerland, Germany and Canada.
Reidy says that making the fourth and final run for the best 20 teams on Sunday with some personal bests in the first three rounds would be "huge."
"I think if we all work together as a team, we can do that," he says.
As for the Banana Hammock project, the team do wear them during sauna and spa sessions and they joke they want Smith to take the brand international, after the Olympics finishes of course.
"We're hopefully going to bring out a new range with some new designs and we'll go from there," Smith says, a little more circumspect.
"There are a lot of girls asking for a female line, but I haven't quite got a name yet. Maybe coconut hangers or mango hammocks, I don't know, we'll figure it out."