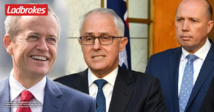 The bet will pay out winnings of 230,000 dollars if the party wins the election, as Labor's odds are sitting at 1.23 per dollar.
The conservative coalition government's odds are trailing behind at 4.50.
The male punter from New South Wales has previously placed only two bets with Ladbrokes, the group said.
The bet on Wednesday easily outstripped the website's previous record of 370,000 dollars on now-retired Australian racehorse Winx earlier this year.
"We've obviously seen some sizable bets come through in recent times, many of them on Winx, but clearly this gentleman thinks the Labor Party is a safer bet than the now-retired mighty mare," Jason Scott, Ladbrokes Australia Chief Executive, said in a statement.
According to an Australian Gambling Statistics report last year, some 23.6 billion dollars was spent in 2016-17 on racing, gaming and sports betting in the country.
In the last 2016 election, the biggest bet with Ladbrokes was 250,000 dollars on the Liberal coalition government to win, which it did.
Prior to Wednesday's million-dollar wager, the biggest bet for this year's election had been 15,000 dollars on the coalition.
In recent public opinion polls pitting the two sides against each other, Labor was leading with 51 to 49 per cent.
Notepad