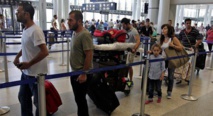 If Germany were to close its border to migrants who have already registered in other EU member states, Austria would "of course take the same measures at [its] borders," Kurz told journalists on the sidelines of an EU summit in Brussels.
Under the EU's asylum rules, these people would have to return to the member state where they first registered - in most cases Italy or Greece, not Austria - the chancellor noted.
Migrants who have already registered elsewhere just make up a small part of the problem, Kurz said, adding that a "far larger number" of people are reaching the EU and travelling onwards from their country of arrival without ever registering there.