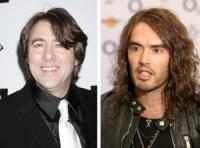 --------------------------------------------------------------------------------
"It is clear from the views expressed by the public that this broadcast has caused severe offence and I share that view."

The two landed in hot water after leaving obscene answer phone messages for Faulty Towers actor Andrew Sachs during a pre-recorded radio show.

The messages included boasts from Russell about his sexual relationship with Andrew's granddaughter Georgina Baillie, and jokes that the veteran actor, who played Manuel in the popular comedy, might kill himself as a result of the revelation.

A BBC spokesman has not yet said what will happen to the pair's shows which are due to air this week.

Jonathan had been understood to be filming his weekly BBC television chat show Friday Night With Jonathan Ross. Guests Sir David Attenborough, Disney star Miley Cyrus, comedian Frank Skinner and band The Killers were all expected to attend.

According to the Sun, Georgina, 23, had called for the two to be sacked. She also threatened that she could make an official complaint to police but admitted she had slept with Russell.

The BBC has received more than 10,000 complaints since the broadcast.