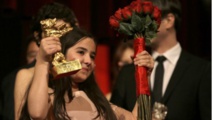 Berlin (dpa) – China's film industry had hoped this year's Berlin Film Festival would be a celebration of Chinese cinema. Instead, the event has been overshadowed by Beijing's much feared censorship board.
On Tuesday, China's censors "recalled" the latest movie from one of the masters of the nation's cinema, Zhang Yimou, just days before its scheduled world premiere in Berlin.
China's film censorship bureau and its list of taboo subjects has long been a stumbling block for Chinese directors, with the censors often rejecting movies just before their cinema release date or being dispatched to film festivals. But rarely on the eve of a festival debut.
"Censorship is something [filmmakers] have to live with," Jacob Wong from the Hong Kong Film Festival told dpa. The Beijing censors have banned more than 30 films since 2000.
Sixty-eight-year-old Zhang Yimou's Golden Bear win in 1988 for his movie "Red Sorghum" set off a wave of international interest in contemporary Chinese cinema.
Since then, however, Zhang has had his problems with Beijing's conservative censors; his 1994 movie "To Live" was banned in China due to its critical portrayal of the Communist government.
The Berlinale said that Zhang's "One Second" had been pulled "due to technical difficulties encountered during post-production," with the film's withdrawal reducing the number of movies vying for this year's Golden Bear to just 16.
Up until Monday's retraction of "One Second," there had been 10 films from Chinese directors screening across 12 categories of this year's Berlinale.
This includes two other movies in Berlin's main competition - "Ondag" by Wang Quan'an, a tale of life and love on the windswept steppes of Mongolia, and Wang Xiaoshuai's family drama "So Long, My Son."
Both directors have previously won top awards in Berlin.
Now part of the propaganda ministry, the Beijing censors have not provided any reasons for putting a stop to the screening of Zhang's film.
But it appears its subject matter, which is centred on Mao Zedong's cultural revolution, may have proven to be a too sensitive.
The censors also take a dim view of subjects such as sex, violence, religion and the Tiananmen Square protests in movies.
"These are the landmines you try not to step on," said Wong.
It took Chinese director Lou Ye two years to secure the board's agreement for his last film, "The Shadow Play," which screened in Berlin on Monday and tackled corruption and scandals in building work.
Unsurprisingly, with his films regularly depicting sex and gender issues, Lou has had a long history of run-ins with the censors. His critically acclaimed "Suzhou River" has been banned in China.
"Over the past 10 years, I've been asked more about censorship than any other topic," Lou told a Berlin press conference. "My position on censorship has not changed: Film should be free."
In more censorship updates, the Berlinale was forced to drop another Chinese film, "Better Days," by Hong Kong director Derek Kwok-Cheung Tsang.
Many believe the film's theme about the pressures on young people in China as they face up to the nation's competing social and political forces may have irked the authorities.
However, the Beijing censorship board's action also raises fresh fears of a renewed crackdown on Chinese political life.
China keeps a tight lid on the foreign motion-picture business at home – notably Hollywood - through a quota system that limits the number of foreign films screened.
Internet film platforms like Netflix are also kept out of the market.
The Chinese film business is also still reeling from a far-reaching tax evasion scandal triggered by the country's highest paid actress, Fan Bingbing, being forced to pay more than 100 million dollars in back taxes.
This led to China's film industry, which pumps out hundreds of movies across multiple platforms every year, last month paying more than 1.7 billion dollars in back taxes as part of China's crackdown on corruption, according to Chinese media.
The result will be a lot fewer films this year and in 2020 at the Hong Kong Film Festival, according to Wong.
"Up until now the industry has been thriving," he said. "But it is in its infancy in terms of structure, rules and regulations. It has been a free-for-all."