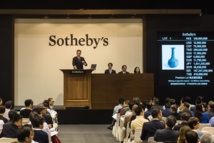 Sotheby's said its Contemporary and Impressionist & Modern Art auctions, originally scheduled for May, are now planned for the week of June 29, depending on whether relevant authorities relax certain restrictions.
Visitors can expect "extra precautions" to ensure their safety, the auction house said.
It named American Pop Art master Roy Lichtenstein's painting, "White Brushstroke I" as a highlight. It is expected to sell for up to 30 million dollars.
David Galperin, Head of Sotheby's Contemporary Art Evening Auctions in New York said the paintings in Lichtenstein's "Brushstroke series," which comprises 15 canvases executed in 1965-66, are regarded as "pivotal masterworks" of the Pop Art movement.
"Bold, brilliant, and irreverent, 'White Brushstroke I' and the other Brushstroke paintings mark a pivotal moment in Lichtenstein's career-long consideration of art about art," he added.
"[The painting] is an icon of Pop Art, capturing in a single painting the rupture that this movement invoked in an entire generation of postwar picture-making," Galperin said further.
Detailing its planned coronavirus safety measures, Sotheby's also said there will be "in-person and virtual appointment viewings", and "enhanced digital experiences" for people wishing to participate in the auction.