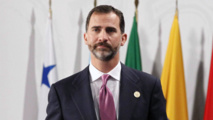 The mistake took place on Tuesday at the San Carlo opera house in Naples, where Felipe was present along with Italian President Sergio Mattarella and Portuguese President Marcelo Rebelo de Sousa for a conference on public administration reform.
The orchestra played a version of the Spanish hymn with a choir, singing lyrics adopted during the 1939-1975 authoritarian regime of Francisco Franco, but abolished after Spain's return to democracy.
Footage from several media outlets shows Felipe giving no apparent reaction as he listened to the hymn.
On Wednesday, a spokesman for the Italian presidency confirmed the diplomatic blunder, and said the director of the San Carlo theatre, Rosanna Purchia, and Mattarella, had both apologized to the Spanish king.