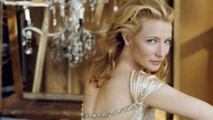 Blanchett, appearing at the Rome Film Festival, was in discussion with festival artistic director Antonio Monda when questions turned to her appearance as a lesbian character in Todd Haynes' "Carol" in 2015.
"It also speaks to something that I'm quite passionate about in storytelling generally, but in film specifically, is that film can be quite a literal medium," the Australian said, in comments quoted by the Hollywood Reporter.
"And I will fight to the death for the right to suspend disbelief and play roles beyond my experience. I think reality television and all that that entails had an extraordinary impact, a profound impact on the way we view the creation of character," she added.
Hollywood has been heavily-criticized in recent years for casting straight actors in its limited gay roles.
Notepad