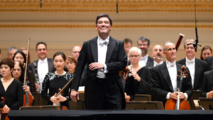 Instead of leaving the orchestra in 2019, as initially planned, Hengelbrock told the Sunday edition of German newspaper Die Welt that he would depart in 2018.
In June, German public broadcaster NDR introduced the US conductor Alan Gilbert as the incoming principal conductor of its affiliated Elbphilharmonie Orchestra. According to Hengelbrock, he had then informed NDR that he would not be extending his contract.
"It was very unpleasant of the NDR ... to name and then introduce my successor in the same week in which I had to conduct 10 concerts," Hengelbrock said on Saturday. When asked if this was the reason he would end the contract prematurely, he said: "Yes, that's how it is."
The NDR has agreed to a five-year contract with Gilbert. After eight years as conductor of the Royal Stockholm Philharmonic Orchestra, in 2009 he became the first New York-born conductor to lead the New York Philharmonic. Gilbert is married to Swedish cellist Kajsa William-Olsson.