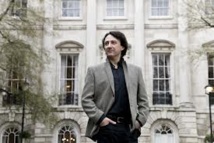 The program included Nocturnes for two pianos, Petite Suite for piano

four hands and Jeux, Poeme danse ( games, dancing poem) for two pianos by

Debussy as arranged by Bavouzet. Part 2 of the program included Jeux d'enfants

(children's games) by Bizet (the well-known composer of Carmen ) followed by

an "American in Paris" composed by the American composer of Russian origin

George Gershwin. Three female piano players shared the burden with Bavouzet

once as duo and once as four hands. All of them received ample admiration and

applause.

It is interesting to note the " love story" sometimes interrupted by jealousy

between the US and France since American Independence. This mutual

fascination was evident at this concert. The first piece, nocturnes (arranged

by Ravel) was a masterpiece like an oil painting of an impressionist artist with

festivities in the fog and a colored small boat in the sea . Ravel used to think of

Debussy as " the most phenomenal genius in the history of French music " and

Debussy believed that "Ravel had the most refined ear there has ever been".

Bavouzet has a natural effervescence that is characteristic of his playing and he

masters playing both French composers. He describes the difference between

them by summing it up " Debussy you need to go to; Ravel comes to you. " In

other words, Debussy pushes the listener to an intellectual level that makes one

cleverer. The "Dancing poem" was written in 1913 as an idea for a ballet. Debussy

was in the habit of preparing a short score for the piano before orchestrating it.

This ballet portrays a scene at dusk on a hot summer day; a tennis ball has been

lost; a young man and two girls are searching for it as if they were playing chidren'

games but it is a sensual episode of flirtation. Amazingly, Bavouzet checked

the orchestral version performed in Paris, undertook extensive research of the

original lost version for 2 pianos which was verified by a German specialist in

1998, and then prepared the two-piano transcription which we heard for the first

time.

Bizet wrote the delightful tunes of " Jeux d'enfants" in 1871 a year after the

Frensh- German war when Bismarck's troops occupied Paris. It consists of 12

short movements non of which exceeds two minutes describing the games most

liked by children such as : the swing, dolls, the merry-go-round, soap bubbles, and

leapfrog.

The last piece is the famous rhapsodic ballet "American in Paris" composed by

Gershwin originally for the piano in 1928 depicting his visit to the French capital

and its vitality and noisy streets. It evokes the sights an American visitor sees as

illustrated by the " walking theme" that absorbs the French atmosphere. He mixes

American jazz tunes and blues with French melodies typical of Debussy's style .

For the orchestral version performed in New York, he even included saxophones

and automobile horns of some Parisian taxis that he had brought back with him.

The work was an instant success in the " Jazz age" as described by the American

novelist Scott Fitzgerald. The use of the word jazz came about for the first time in

1913 to describe any artistic activity characterized by vigor, happiness and joie de

vivre. Later the term was confined to music.

Bavouzet was accompanied sometimes by Soyeon Kate Lee or Anne-Marie

McDermott or Wu Han and sometimes they paired together without him.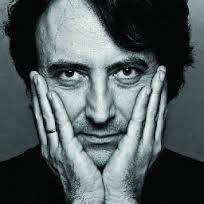 The contrast in the playing style was evident. The three ladies distinguished

themselves by high technical skills but occasionally banged the keyboard with

varying degrees of success. It makes one wonder about their motivation: is it to

catch up with the French pianist exciting style where he breaks out into a blazing

but controlled Mediterranean sun shine, or is it simply excessive bravura ?

The concert ended with an encore for 8 hands where all four artists joined

together and sat on a long extended seat. They dazzled the audience with their

superb coordination and strict discipline. They received a standing ovation and

well deserved enthusiasm for their remarkable achievement.

Bavouzet, born in 1962 and the last discovery of new talent by the illustrious

conductor Sir Georg Solti, mentioned that when he started his career he was

not terribly enthusiastic about Debussy. His professor at the masters classes in

Paris was trained by Henry Busser, the conductor and composer who lived 101

years, and had performed many of Debussy's music for the first time, provided

him with a lot of important information about the Debussy's thoughts, his way of

composition and the emotional content of his work. Bavouzet adds, " Once when

I was in my hotel room in Tokyo preparing myself for a concert while listening to

Pelleas and Melisande opera by Debussy recorded by Karajan; I suddenly felt a

strong urge to cry without interruption. The emotional charge of the music shook

me profoundly. Since that moment I became a forceful admirer of Debussy."

Bavouzet came from France to the US last month after performing the music

of Haydn and Beethoven as well as demonstrating his talent in " Nights in

the Gardens of Spain" by De Falla. Previously he worked with famous living

conductors like Pierre Boulez, Valery Gergiev, Neeme Jarvi, Ivan Fischer, and

Vladimir Jurowski.. The BBC Music Magazine interviewed him at length in

February 2014 at the British Embassy in Paris. At the moment he is touring several

cities in the U.S. and his ultimate concert at the end of last month was scheduled

in Pittsburg where he performed the piano concertos by Prokofiev. He smiles

when he recalls what Gershwin once said about a girl he liked (perhaps in Paris)

and was told that she had gotten married. Gershwin said with his usual sense of

humor " if I was not too busy, I would have felt angry."