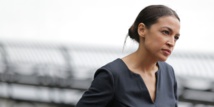 Alexandria Ocasio-Cortez.
"While you were having a nice
Valentine's Day
, @AOC decided to put her boyfriend on staff - drawing a salary on the taxpayer's dime. Nice to see her adapting to the swamp so quickly,"
Luke Thompson
tweeted.
Ocasio-Cortez, D-
N.Y.
, responded on Twitter explaining that it was common practice in
Congress
for partners to be given a .gov email in order to access their partner's official schedule.
"From time to time, at the request of members, spouses and partners are provided House email accounts for the purposes of viewing the member's calendar," a spokesperson for the
Office of the Chief Administrative Officer
explained further to The
Washington Post
.
Saikat Chakrabarti
, Ocasio-Cortez's chief of staff, told
The Post
that, "Roberts, has no official position, paid or otherwise" and that members of
Congress
often give family members and others access to their official schedules so as to better plan their personal lives.
Since winning her primary against then-Representative
Joe Crowley
, Ocasio-Cortez has come under attack by conservative media for working as a bartender in the past, growing up in
Westchester County
even as she touts her
Bronx
roots, accused of attending
Brown University
(she went to
Boston University
), and of having revenge porn leaked (the photos were doctored).