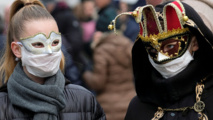 She does not have significant symptoms of illness, but has been put in isolation in hospital. Her husband and people thought to have been in close contact with her have also been isolated, Musumeci said.
Italian media were also reporting a new case in Florence, Tuscany. The Region of Tuscany said it would issue information shortly.
On Monday evening, there were a total of 229 cases of infection in Italy, mostly in Lombardy, which includes Italy's business and fashion capital of Milan, and in Veneto, the region around Venice.
Numbers are expected to have climbed further overnight. Italy's Civil Protection Agency was expected to give an official update at around 12 pm (1100 GMT).
In Rome, talks were scheduled between the Italian foreign and health ministers, and health ministers from Austria, France, Slovenia, Switzerland, Germany and Croatia.
The EU ministers are hoping to coordinate a response to the crisis, amid talk of reintroducing controls on Italy's borders, suspending Europe's free-travel Schengen rules, to limit the contagion.
"The coronavirus epidemic has arrived as an epidemic in Europe," German Health Minister Jens Spahn said on Monday in Berlin. "Therefore, we must accept that it could spread to Germany as well."
However, there was no indication that Germany was planning to close any borders.
Late on Sunday, Austria briefly blocked incoming rail traffic from Italy after two suspected cases were detected on a Venice-Munich train. They tested negative for the novel coronavirus.
Italy's government has insisted that suspending Europe's free-travel Schengen rules in response to its public health crisis would be the wrong response.
In Lombardy and Veneto, authorities have taken draconian virus containment measures, such as sealing off about a dozen towns linked to the outbreak, isolating more than 50,000 people.
More talks were scheduled in Rome for Wednesday, involving the European Commission, the World Health Organization (WHO) and the European Centre for Disease Prevention and Control (ECDC).
Italian Health Ministry Roberto Speranza will meet with EU Health Commissioner Stella Kyriakides, WHO Europe Regional Director Hans Kluge and ECDC Director Andrea Ammon, Speranza's office said.