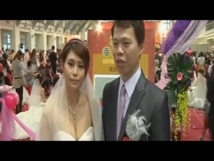 The new wedding guidance allows up to 250 people at banquets. Additional advice recommends no more than eight guests per table at assigned seats and that everyone be kept 1.5 metres apart.
Earlier this year, multiple weddings had to be downsized or postponed after the virus first appeared on the island.
It is the latest easing on large gatherings announced by Taiwan's government.
The new death of Covid-19, the respiratory disease caused by the virus, was the first reported since April 10.
According to the Central Epidemic Command Center (CECC), the victim was a Taiwan national in his 40s without any chronic disease. He died of multiple organ failure on Sunday.
He began to show symptoms in mid-March after returning from the United States.
So far, Taiwan has reported 440 cases of Covid-19, including 349 imported cases. Seven people have died and 368 patients have recovered. As of Monday, Taiwan has not registered any locally transmitted infections for 29 consecutive days.