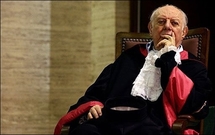 "Our theatre was born out of the same need to denounce the military, war, the supremacy of economic interests... When I met him we spoke about the way capitalism has disfigured the world today," the writer told ANSA news agency.

Pinter, who won the Nobel Prize for Literature in 2005 and whose plays included "The Birthday Party" and "The Homecoming," was a fierce opponent of the Iraq war.

Fo also recalled Pinter's passion for cricket, saying how he compared the sport to "boring life with its rare explosions of joy."