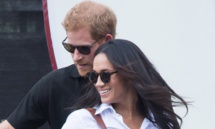 "Not being able to meet his mother, it's so important to me to know that she's a part of this," Markle told the BBC in the couple's first broadcast interview since they announced their engagement.
Diana, who died in 1997, would have been "over the moon, jumping up and down" at news of his engagement to Markle, Harry said.
The couple said they were "set up" by a mutual friend in their first meeting in July 2016, with Harry noting he had not heard of Markle or seen her cable television drama "Suits" at the time.
"I was beautifully surprised when I walked into that room and saw her," Harry said. "I was, like, 'I'm really going to have to up my game here.'"
Markle said Harry, 33, had proposed in the traditional way by getting down on one knee during a roast chicken dinner in their cottage at Kensington Palace in London, and that she accepted immediately.
"[The proposal was] just an amazing surprise," she told the broadcaster. "It was so sweet and natural and very romantic."
"The fact that I fell in love with Meghan so incredibly quickly was confirmation to me that all the stars were aligned," Harry said.
"This beautiful woman just tripped and fell into my life, I fell into her life. I know that she will be unbelievably good at the [royal] job part of it as well."
Markle, 36, said she planned to transition out of acting and into her new role as a member of the British royal family, suggesting she will continue to work for humanitarian causes.
"I'm excited to really get to know more about the different communities here and smaller organizations that are working on the same causes that I've always been passionate about," she said.
Asked plans to have children, Harry told the broadcaster: "One step at a time, hopefully we'll start a family in the near future."
Speaking earlier during their first public appearance as an engaged couple, Harry said he fell in love with Markle the first time they met.
Harry held hands with his fiancee as they posed for photographs in a garden outside Kensington Palace, the home of his older brother, Prince William, and his family.
Asked when he first knew he wanted to marry Markle, Harry replied: "The very first time we met."
Queen Elizabeth II and her husband, Prince Philip, said they were "delighted for the couple and wish them every happiness."
The wedding plan was announced by Harry's father, Prince Charles, who said it will take place in "spring 2018."
"We're both thrilled," Charles and his wife, Camilla, the Duchess of Cornwall, said in a statement. "We hope they'll be very happy indeed."
William and his wife Kate said they were "very excited for Harry and Meghan."
"It has been wonderful getting to know Meghan and to see how happy she and Harry are together," William and Kate said via Twitter.
Markle's parents, Thomas Markle and Doria Ragland, said they were "incredibly happy" for the couple.
"Our daughter has always been a kind and loving person," they said in a statement via Clarence House.
"To see her union with Harry, who shares the same qualities, is a source of great joy for us as parents."
While US President Donald Trump - whom Markle has criticized in the past - remained silent on the engagement, his predecessor Barack Obama and his wife Michelle congratulated the couple, wishing them "a lifetime of joy and happiness together."
Canadian Prime Minister Justin Trudeau also congratulated them.
"Congratulations and best wishes to you both," Trudeau wrote on Twitter in English and French, posting pictures of the Canadian and British flags side by side.
Markle has appeared on Canadian television alongside the prime minister and is reportedly close to both the Trudeaus and the family of former prime minister Brian Mulroney, together seen as Canada's leading political families.