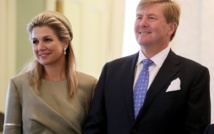 The traditional Prinsjesdag - Prince's Day- will be significantly pared down, with no public element and no carriage ride.
The public have been asked to follow the ceremony on September 15 on television and not to come to The Hague.
The tradition sees the royal couple give an annual speech from the throne to open the parliamentary year, and then leave the royal palace in a glass carriage.
King Willem-Alexander and Queen Maxima's appearance on the royal palace balcony will not take place this year.
Last year, the Dutch King surprised the public by sporting a beard on Prinsjesdag. The redheaded royal often grows a beard during the holidays, but this was the first time in over one hundred years that a bearded king had given the speech from the throne.