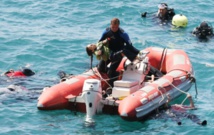 The papers quoted a letter from Dimitris Avramopoulos, the EU's migration commissioner, to the European Parliament as saying that the saving of people's lives remained a top priority for the EU and its member states.
He noted that non-governmental organizations had played a key role in Mediterranean rescues, and that their work should not be criminalized.
But he also said that all those taking part in rescues at sea should abide by international regulations and not contribute towards maintaining the business model of human smugglers.
This week the EU suspended its naval deployment under Operation Sophia, its anti-migrant-smuggling mission in the Mediterranean, amid disagreement among member states about how those rescued should be divided among them.
The Italian government had opposed a renewal of Operation Sophia's mandate unless other member states agreed to take in more arrivals while several other countries have been refusing to take in redistributed migrants.
Operation Sophia will still offer air support and training to the Libyan coastguard.
Notepad