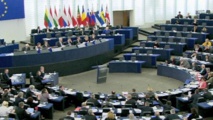 The measures, proposed by the European Commission in 2016, are part of an overhaul of EU copyright rules, which date back to 2001 and are no longer appropriate in the digital age, according to the European Union's executive.
But critics of the planned reform argue that it will damage the free exchange of information online. The plans have been dubbed by some media outlets as heralding "the death of the internet."
One key point of contention are so-called upload filters - algorithms that pre-check user-generated content to make sure it complies with copyright rules.
Another key aspect of the proposal would limit the ability of websites such as Google to use news headlines or text segments without seeking permission or even paying for the content.
In July, EU lawmakers narrowly voted against launching negotiations with EU member states on the proposed reforms. Since then, more than 200 proposed changes have been submitted.
If no consensus is found Wednesday, the EU legislature could reject the proposal entirely, sending it back to the drawing board.