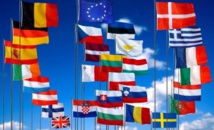 Mauro Ferrari, who resigned as president of the European Research Council on Tuesday, said he was "extremely disappointed by the European response to Covid-19."
In a statement first reported by the Financial Times, Ferrari said there was a "complete absence of coordination of healthcare policies among [EU] member states."
He criticized "the recurrent opposition to cohesive financial support initiatives, the pervasive one-sided border closures, and the marginal scale of synergistic scientific initiatives."
The ERC's Scientific Council said its 19 members had "unanimously requested that Mauro Ferrari resign from his position as ERC's president" on March 27.
"We regret Professor Ferrari's statement, which at best is economical with the truth," the council said.
It accused him of "a lack of engagement with the ERC," by failing to participate in important meetings and spending "extensive time" in the United States.
Ferrari also used his position to promote his own ideas within the European Commission and prioritized his "multiple external enterprises, some academic and some commercial," the council said.
Ferrari said he had advocated the setting up of a special research programme for Covid-19 "as it became evident that the pandemic would be a tragedy of possibly unprecedented proportions."
He said he disagreed with EU officials over research funding that he suggested could come from a budget normally reserved for longer term, "bottom-up" projects.