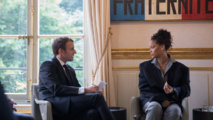 The conference, hosted by Senegalese President Macky Sall and the Global Partnership for Education raised 2.3 billion dollars from donor nations to support education for 870 million children in the world's poorest nations over the next three years.
However, this leaves it short of a goal to raise 3.1 billion dollars.
The developing countries themselves have already pledged to make 110 billion dollars available for education between 2018 and 2020.
Pop star Rihanna, an ambassador for the Global Partnership, also attended the summit.
"This is a fight we never gonna stop fighting until every boy and every girl has access to education," she said.
The singer was there to promote children's education through her charity, the Clara Lionel Foundation, and to meet schoolchildren in Dakar.
Ahead of the conference, the Barbadian celebrity had been pushing various heads of state around the globe, including British Prime Minister Theresa May and Australian Prime Minister Malcolm Turnbull, to make a generous donation to the fund through her Twitter account, which has 86 million followers.
A Senegalese umbrella body of 30 religious organizations meanwhile said Rihanna was "not welcome" in Senegal, because the celebrity represented "freemasonry and homosexuality" and had "low values."