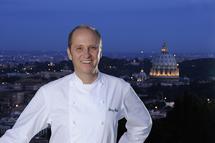 Heinz Beck the emperor
. The headquarters of the Grand Chef Heinz Beck is located in a posh restaurant, La Pergola, at the Hilton Cavalieri Hotel in Rome. It overlooks the beautiful capital from a hill revealing a unique scenery of the Vatican and its glorious St Peter's basilica, the principle shrine of the Catholic Church, with its dome, a masterpiece designed by Michelangelo that controls everything you see around it . You can watch the fascinating scene from the terrace of the restaurant as if you were hiding in a luxurious shelter while observing a panorama of Roman antiquity, renaissance museums, parks of noble families of aristocratic Rome and new buildings that blend with old edifices in perfect harmony.

If you consult any Italian or foreign restaurant guide you will notice that Beck is listed with a score of 9.5 over 10, the highest grade given to any chef, because having dinner at his restaurant is a wonderful gastronomic experience for any gourmet with refined taste for food or drink. His method of preparing new dishes reflects his interest in research and experimentation to create recipes inspired by but not an exact copy of traditional Italian cuisine. Beck's approaches cooking as a first class researcher . Since he is an real artist, he mixes the ingredients like a talented painter who carefully selects his colors and combines them in his own special way. La Pergola food is the sum total of Beck's experience in cookery , his professional style, and the balance between the various ingredients which make his dishes tasty and light at the same time while his presentation is elegant and rich in decorative details like a painting of harmonious colors that makes it an endearing piece of work.

When I met Beck before dinner time, we noted that he changes the color of his table covers and the flowers every now and then. The prevailing white color has now given way to orange, and when I asked him about the reason for this he replied, " I used to like painting when I was young and my ambition was to become a painter, but my father had other plans for my future which consisted of pursuing the family jewelry business in my village. My position was that I had no intention of becoming a jeweler, so I studied cooking and worked as a chef in Berlin, then came to Italy in 1994 when I was 30 years old. I started preparing then what I thought was Italian food." He added, " I discovered during that period that Italian cuisine does not exist; instead there are 22 Italian different regional cuisines due to the rich diversity of the country. There is the Piemontese cuisine and that of Val d'Aosta in the northwest which were influenced by the French and Swiss cuisines, while the Alto Adige region (Tyrol) in the northeast is similar in its dishes to those made in Austria. The food produced in Sicily in the south has the imprints of the Arabs and later the Spaniards and the French." He continued " Some believe that eating in Italy means pasta, spaghetti and pizza but the variety and difference between the Italian regions is overwhelming. Rome's cuisine is completely different from that of Venice and the Veneto region which uses other ingredients. The difference applies even to Florence, which is relatively close to Rome where they prefer meat and game while Napoli is known for fish and shellfish dishes."

Talking to Beck is fun because he is so well versed in his field with a lot of interesting information in his quiver. Although very famous, he is humble in behavior and down to earth. He is fond of scientific and medical research regarding nutrition and the need for a healthy diet. He said, " I participated a week ago in a medical conference about diabetes where discussion was focused on food intake and items to avoid or reduce . My interest became more intense about health aspects when I studied causes of blood pressure and food items that increase it leading to heart disease. I also learned that grilling meat over charcoal is harmful because melting fat over fire coming out from the grill with all the smoke of the barbeque may cause cancer. Of course , if we eat liver it will increase the bad cholesterol level, but liver is full of iron which is useful from a health perspective; therefore we should not exaggerate and eat liver frequently but limit it to once every season." He goes on to say, " My menu is characterized, besides being tasty and enjoyable, by the attention given to healthy eating." He concluded his thought adding jokingly " deep inside them, Italians know that 75% of my plates are Italian with some desired modifications. Mediterranean diet is salutary, and the Italians good taste leads them to think that stuffing the stomach with food is no longer necessary as was the case during the famine days after the Second World War. Healthy cooking does not aim at saturating the body with greasy and heavy products." Beck went on in his calm style to say, " the movement of nouvelle cuisine started in the sixties as a revolt against the heavy traditional cuisine with its abundant fat and butter, but it went astray and a new plate was simply reduced to two boiled carrots just as painting changed from portraying nature and faces to abstract lines and color spots as we see in some modern trends. That is why my advice to new chefs is to start their career by producing and perfecting the well-known traditional dishes then move to creativity and modernism."

Beck's activities have now expanded in many directions between Rome and the coastal city of Pescara. He recently added the British capital to his vast empire visiting it regularly since last September and acting as a gastronomic consultant and head of a team of chefs. He collaborates in London with the Italian chef Massimiliano Plasone who used to work with him in Rome for 11 years. Ex trainees and assistants to Beck have opened their own successful restaurants in Rome including one named after a famous Italian opera Il Pagliaccio located in the center near Piazza Navona ; it has earned a high rating in the restaurants guides close to Beck's La Pergola. The favorite restaurant for Beck and his Sicilian wife – outside his own – is named Molto and can be found in the fashionable neighborhood of Parioli where Paolo Castergniano , one of Beck's previous sous chefs works. He said the best advice Beck gave him was to pick high quality products and ingredients needed for any meal.

Beck's network includes nowadays cooperation with a big , quality oriented and well established pasta company, De Cecco, which lately introduced a number of popular Italian sauces like tomatoes with basil or the hot " angry" sauce (Arabiata) or ragu with meat and tomatoes. He said that he chose DeCecco since they do not base their expansion worldwide on promotion and marketing but on quality control. This approach encouraged him to add his signature, as a guarantee for high quality, on the glass jars containing the sauces produced by the company and distributed in Italy, Europe and North America.

Beck admits that producing sweets and deserts is another specialty quite different from cooking food. That explains why he chose a patisserie chef for La Pergola from Palermo in Sicily " where they take their sweets seriously due to Arab historical influence." He adds, " My wife, Teresa, tried to prepare some Sicilian dishes in our house, but discovered the difficulty of getting the right taste since many ingredients could not be found in Rome such as wild fennel." The grand chef avoids undertaking whole banquets and prefers that his clients enjoy their meal over an intimate table with subdued lights. A few years ago, he made an exception for the ex Saudi Ambassador to Italy, Prince Mohammad Bin Nawaf ( presently Ambassador to UK) . Beck stopped talking all of a sudden when one of his assistants brought him the dish of the day for inspection and tasting. Examining a mouthful carefully went on for some time while he masticated checking the balance between the inputs, herbs, garlic and onion and other proportions. The reputation of the restaurant will be decided at that decisive moment as well as the clients' degree of satisfaction. He then nodded in approval as if he was a conductor leading an orchestra and searching for the right pace and tempo of the music. He is, after all, an artist deep inside practicing cooking with enthusiasm as an interesting and enjoyable profession in spite of all the problems and hard work. This is certainly the key to professional success.


La Pergola del Cavalieri Hilton – Via Cadlolo, 101 – Rome – Tel. 06 35092152

A luxurious, swanky, and expensive restaurant for evening dinning serving exquisite dishes with strong delicious taste and a noticeable balance between tradition and creativity. The maestro chef Heinz Beck perfects the preparation of Italian, European and Japanese food in his own way based on harmony of contradictions and extracting flavors. The atmosphere of the small restaurant on the roof of the hotel is intimate and full of charm in a comfortable artistic décor. Service is highly professional, efficient, polite, modest and human . Among its popular dishes is the Spaghetti alla Carbonara prepared in a non conventional way, i.e., using the order of putting ingredients backwards. Other dishes include fresh tuna with soy sauce, langouste (scampi lobster) with rice, shrimps (gamberi) with caviar, cucumber, and papaya, veal marinated in yoghurt and apricots. Desserts include gelato ice cream with cardamom, and a collection of small cakes presented in a cabinet of 8 drawers. Average price per person:150 – 170 euros (or $ 225 – 255).