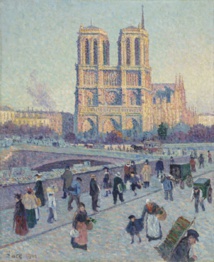 So far, staff at Cologne Cathedral and the Freiburg Minster in Germany have signalled their readiness to assist, Wolfgang Zehetner said, as well as the team at Vienna's St Stephen's Cathedral, where Zehetner is the chief architect.
A significant number of other cathedral teams might be ready to join the effort, the Austrian architect said Wednesday, stressing that his organization has not yet made a formal offer and does not want to "force itself" on France.
Zehetner stressed that France has no lack of experts to rebuild the medieval Notre Dame Cathedral, given that "the Gothic [style of architecture] originated in France."
However, Paris might be able to use additional foreign specialists such as stone masons, he said.
"I think that there are no longer excessive numbers of artisans" who are capable of carrying out such work, Zehetner said.
"Stonemason work on cathedrals is not something you can learn in a few weeks. It needs years of experience."
In addition, experts from other cathedrals also have knowledge about repairing churches after fires.
"In Vienna, we had a similar situation in 1945" when St. Stephen's burned down at the end of World War II, Zehetner said.
Like at Notre Dame, the wooden roof beams collapsed and had to be rebuilt.
"It won't be easy to find adequate amounts of quality timber" for Notre Dame, Zehetner said, adding that replacing timber with new steel beams like in St Stephen's could also be considered in Paris.
The Austrian architect said that France's architectural competition to decide whether and how to replace Notre Dame's spire was "legitimate."
He pointed out, however, that the spire that collapsed in the fire is typical for medieval cathedrals, even if the one on the Notre Dame wasn't built until the 19th century.
Zehetner also offered an idea for recreating Notre Dame's exterior.
"Many of the statues had their heads knocked off during the French Revolution, and many of them are kept in the Cluny Museum," he said. "Maybe now there is a chance to bring them back to their original place."