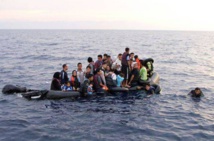 "While states have the right to control their borders and ensure security, this cannot come at the expense of human rights," Dunja Mijatovic said.
Citing recent "tragedies" that have seen hundreds of migrants lose their lives, Mijatovic argued that non-governmental organizations (NGOs) play a crucial rescue role.
They "should be free to use ports and other facilities for rescue operations and for helping migrants," she said.
The Italian and Maltese governments have blocked NGO vessels in recent weeks because they want migrants rescued at sea to be returned to Libya by the Libyan coastguard.
But Mijatovic warned that authorities coordinating rescues should respect the human rights of rescued migrants and not put them at risk of mistreatment or arbitrary detention.
According to the UN, migrants face arbitrary detention in substandard conditions in official Libyan detention centres. Migrants in Libya have also suffered torture, extortion, forced labour and unlawful killing.
European leaders have accused rescue groups of playing into the hands of people-smugglers and failing to follow official instructions. The rescuers say that they are saving lives.
According to rescue NGO SOS Mediterranee, there are now no NGO rescue vessels operating in waters between Libya, Italy and Malta.
Mijatovic also expressed concerns about last week's European Union summit decisions.
In addition to backing the Libyan coastguard, EU leaders proposed voluntarily establishing "controlled centres" on their soil to process migrants rescued at sea while also exploring the possibility of opening "disembarkation platforms" outside Europe.
Any proposals to land rescued migrants outside Europe needed clear procedures to safeguard human rights, Mijatovic warned.
Disembarkation points "must not become centres where people are automatically deprived of their liberty," she added, and "effective alternatives to detention" should be available.
"European states' current approach to the arrivals of refugees and migrants has transformed a manageable issue into an extremely divisive topic, in particular within EU member states," she charged.
The Council of Europe, which is focussed on human rights and the rule of law, is separate from the European Union. Almost all European countries are members.
Notepad