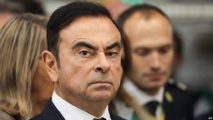 "I have always acted with integrity. I have been wrongly accused," said the 64-year-old, who was wearing a dark blue suit, a white shirt and no tie and looked substantially slimmer than he had before his arrest in November.
He described the accusation laid against him by Tokyo prosecutors as "unsubstantiated."
It was Ghosn's first public appearance since he was arrested on November 19 by prosecutors on suspicion of under-reporting his salary by 5 billion yen (44 million dollars) from 2011 to 2015.
More than 1,100 people lined up for the 14 courtroom seats allotted to the public.
At the hearing, Ghosn listed his achievements at Nissan, including turning a 2-trillion-dollar debt in 1999 to a surplus in 2006. Sales more than doubled to 5.8 million vehicles in 2016 from 2.5 million in 1999, he said.
The Nissan-Renault-Mitsubishi alliance had become number 1 in the world in terms of the number of vehicles sold in 2018, he added.
Ghosn said he had a "love and appreciation" for Nissan and said he "always acted honourably and legally."
"I have dedicated two decades of my life to reviving Nissan. I worked on these goals day and night," he said.
Ghosn was served a fresh arrest warrant on December 21 for allegedly transferring personal investment losses worth 1.85 billion yen to Nissan in 2008.
A week ago, the court approved prosecutors' request to extend Ghosn's detention until January 11.
Presiding judge Yuichi Tada said on Tuesday that Ghosn was being detained because he was a flight risk.
There was also a risk that he may conceal evidence, Tada added.
Nissan and Mitsubishi Motors ousted Ghosn as chairman at board meetings following the arrest, while Renault has kept him on, appointing Chief Operating Officer Thierry Bollore to run the company on an interim basis.
On November 19, prosecutors also arrested Ghosn's aide Greg Kelly for allegedly collaborating with him.
Last month, prosecutors indicted Ghosn, Kelly and Nissan over an alleged understating of Ghosn's pay package.
Kelly was released on bail by the court on December 25. The US citizen had rejected the charges and demanded to be released, saying he was ill and required medical treatment.
Notepad