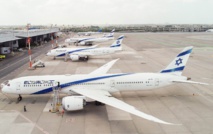 The pilot, Tal Becker, told journalists it was the most exciting flight of his life and "a very special feeling."
The passengers included a large Israeli delegation, United States government advisor Jared Kushner and the security advisors of the US and Israel, Robert O'Brien and Meir Ben-Shabbat, among others.
The aircraft was reportedly fitted with anti-rocket protection systems for security.
Talks are scheduled between the delegations of Israel, the UAE and the US upon arrival, covering a wide range of topics from tourism to finance, with the aim of signing several cooperation agreements.
A meeting of O'Brien and Ben-Shabbat with the Emirati security advisor Tahnoun bin Zayed is also on the schedule.
A return flight is planned for Tuesday.
On August 13, Israel and the UAE announced a US-brokered agreement to establish diplomatic ties in return for Israel suspending a controversial plan to annex parts of the occupied West Bank.
The deal makes the UAE the third Arab country after Egypt and Jordan - and the first Arab Gulf country - to have diplomatic links with Israel.