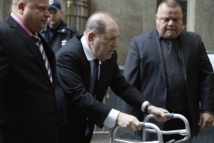 The court in Manhattan chose seven New Yorkers, four men and three women, from a pool of more than 100 people. The panel will consist of twelve people and six substitute judges. The selection will continue on Friday.
Addressing the jury members, Judge James Burke stressed that the trial is not a referendum on the #MeToo movement or women's rights. The jury's decision should only be based on the evidence presented in court, he added.
More than two years have passed since US media detailed numerous allegations against Weinstein, triggering a cascade of accusations against other powerful men and the spread of the #MeToo movement.

The trial, which could last around six weeks, kicked off in New York State Supreme Court on January 6.
Weinstein, 67, faces five charges stemming from allegations he raped a woman in 2013 and performed a forcible sex act on another woman in 2006.
If convicted of predatory sexual assault, the former movie producer could face life in prison.
Weinstein, who was arrested in May 2018, has pleaded not guilty to all charges and has been free on bail.

In all, more than 80 women, including A-list stars such as Gwyneth Paltrow and Angelina Jolie, have accused Weinstein of sexual misconduct. He has denied all allegations of non-consensual sex.