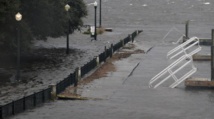 The eye of Florence was about 95 kilometres from Wilmington, North Carolina, the National Hurricane Center (NHC) said in its 11 pm (0300 GMT Friday) report.
The storm was downgraded to a Category 1 hurricane with maximum sustained winds of 150 kilometres per hour (km/h), but the Miami-based centre maintained its warnings of life-threatening storm surges, hurricane-force winds and freshwater flooding.
Officials have been urging the estimated 1.5 million people living in mandatory evacuation zones to heed warnings and leave, saying Thursday the window was quickly closing on their opportunity to get out.
"Storm surge is deadly. Anyone in an evacuation zone in the Carolinas and Virginia must leave NOW if they haven't yet," the Federal Emergency Management Agency (FEMA) tweeted early Thursday.
The National Weather Service said it had already seen reports of downed trees and urged people who didn't plan to evacuate to stay in their homes and sleep in the most interior room.
Florence will be slow to move through North Carolina, the weather service said on Twitter. That will result in extreme rainfall and life-threatening flash flooding across the south-eastern US. Tornado warnings and watches have been issued for several counties, the service said.
Florence's outer bands of rain and tropical-storm-force winds reached the Outer Banks Thursday morning, gradually increasing to hurricane force by evening. The eye of the storm is expected to make landfall in the early hours of Friday (after 0400 GMT).
FEMA Administrator Brock Long said there will be power outages and serious inland flooding, he warned.
Duke Energy took its Brunswick nuclear power plant off line in anticipation of the storm. The power plant is just a few kilometres inland south of Wilmington, where Florence is projected to hit hardest.
The storm's hurricane-force winds extend outward from its centre up to 130 kilometres, the hurricane centre said.
The storm also has slowed down to a speed of 7 km/h and is expected to turn to the west-north-west after moving on land.
People who have decided to ride it out despite mandatory evacuation orders were advised that emergency rescue teams would not be able to reach them during the height of the storm.