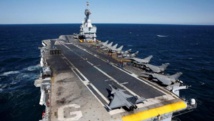 The Charles de Gaulle will be escorted by a European squadron including vessels from Germany, Belgium, the Netherlands, Spain, Portugal and Greece, Macron said.
The deployment will run from January to April, with the aircraft carrier then heading to the Atlantic and the North Sea, Macron announced in a New Year's address to the armed forces.
The Charles de Gaulle also backed up operations against Islamic State for a month earlier last year, when Kurdish forces backed by the US and Western countries captured the group's last territory in Syria.
Macron said French forces would remain engaged against Islamic State, which claimed responsibility for most of the terrorist attacks that killed more than 230 people in France in 2015 and 2016.
The group no longer held territory, "but its menace remains, in another lurking, more insidious form," he warned.
The coalition against Islamic State has suffered setbacks in both Syria and Iraq recently.
Turkey invaded north-eastern Syria in October to fight the Kurdish forces that defeated the group there, disrupting operations against its remnants.
Meanwhile US troops in Iraq are on high alert, and allied forces from Germany and other countries have pulled out, after the recent US assassination of a top Iranian general.