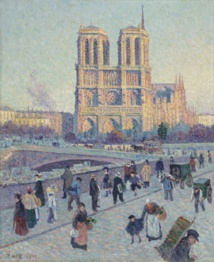 "You cannot be shocked by the fact that people feel that the Notre Dame is something that is part of the soul of France," Stephane Bern told broadcaster FranceInfo on Saturday.
Donations have poured in for the restoration of the 850-year-old Paris landmark that was badly damaged in a fire earlier this week.
But the generosity has also faced a backlash, especially against billionaires who have pledged large sums at a time when wealth inequality has become a major issue and many French say they are struggling just to make ends meet.
"I would like to get 2 billion so nobody has to sleep on the street," Bern said.
However, he said people "had been moved by what they saw" and their philanthropy should not be rejected.
He noted that billionaire families have said they would forgo tax breaks on the donations to Notre Dame.
President Emmanuel Macron has said the cathedral should be fully restored within five years, though some experts say this is too ambitious.