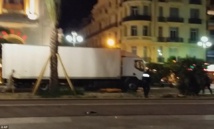 Eighty-six people were killed on Bastille Day, 2016, when Tunisian-born Mohamed Lahouaiej Bouhlel ploughed a truck through crowds watching a fireworks display on the seaside promenade in Nice.
Lahouaiej Bouhlel himself was shot dead by two police officers who chased his truck on foot as it swerved through the crowd.
The National Anti-terror Prosecution said it had requested that four suspects stand trial for terrorist conspiracy.
One of the four is also accused of firearms offences linked to a planned act of terrorism.
The other five defendants are accused of criminal conspiracy, as prosecutors considered they were not aware of Lahouaieh Bouhlel's terrorist intentions. Four of those five also face firearms charges.
Four of the suspects are in custody, another four out on bail, and one is the subject of an arrest warrant.
The Nice attack was claimed by Islamic State, but while investigators determined that Lahouaiej Bouhlel held extremist views, they did not firmly establish any link with that organization.
The attack came eight months after Islamic State extremists killed 130 people in a series of gun and bomb attacks on Paris' Bataclan theatre, nearby cafe and restaurant terraces, and outside the Stade de France stadium.
In total more than 230 people lost their lives in attacks on French soil, mostly claimed by Islamic State, in 2015 and 2016.