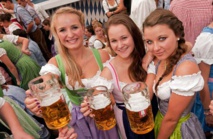 Total beer sales dropped by 2.5 per cent in 2017, compared to the previous year, to 93.5 million hectolitres.
In contrast to 2016, exports were unable to offset inland sales, with countries outside the European Union accounting for the biggest drop in exports - 4.1 per cent.
The Brewers' Association blamed the trend on "a certain degree of market saturation" in China.
But thirsty drinkers abroad have on the whole been the German beer industry's saving grace, with total exports of the alcoholic drink up 135 per cent from 1993, while beer sales in the country have shrunk by more than a quarter in that same period.
Last year's fall in sales was attributed to Germany's ageing population, since older people tend to drink less. A rainy summer also dampened spirits across the country's beer gardens.
But Brewers' Association President Joerg Lehmann is optimistic for this year, with the World Cup likely to give Germans a reason to raise a glass.
Despite a dip in 2016 sales, Germany still prefers its beer home-brewed, with German breweries catering for more than 82 per cent of the country's needs.