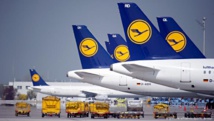 The committee, set up under legislation enacted in March for an Economy Stabilization Fund, is preparing an official offer to Lufthansa that is set to include a substantial stake to be held by the German state.
It will then be up to Lufthansa's board and shareholders to decide. Any state aid plan will also have to receive the approval of the European Union competition authorities.
According to details that have emerged from the drawn-out negotiations, the German state will put up some 9 billion euros (10 billion dollars) to rescue the Lufthansa Group, which takes in subsidiaries Austrian, Brussels, Eurowings, Swiss and others, along with Lufthansa Cargo.
In return, the state plans to take a stake of 20 per cent - less than the blocking minority that had been under discussion - as well as two seats on the supervisory board.
Earlier in the talks, Lufthansa chief executive Carsten Spohr held out the possibility of taking the airline, Europe's second largest by passenger numbers, into insolvency proceedings rather than accept state control.
The UFO cabin crew union expressed concern that the rescue package under consideration contained no provisions for guaranteeing the jobs of its members.
Speaking in Frankfurt on Friday, UFO head Nicoley Baublies pointed to how Lufthansa had treated the 1,400 employees of its Germanwings budget subsidiary which is currently being wound up.
Notepad