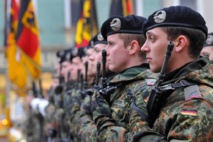 "I very much regret the practice in the Bundeswehr of discriminating against homosexuals, which the political establishment backed at the time," Kramp-Karrenbauer said. "I apologize to those who suffered as a result."
"I would like to make use of the study's findings to review the past more fully and to press on with planned legislation to rehabilitate those concerned," she said.
The report, due to be published in Berlin later on Thursday, notes that up to 2000, same-sex sexual orientation was seen as a security risk in the Bundeswehr, making a career as commissioned or non-commissioned officer impossible.
In it, one captain remembers that "all hell broke loose" in 1981 when he was relieved of his command of a company.
After being regarded as having brilliant prospects in the military, his career was at an end. "All that suddenly came to nothing, because the captain was gay," the report will say.
The affair came to light after the captain's partner was called up for military service and was to be deployed to the same barracks where the captain was serving.
The Military Counterintelligence Service (MAD) had been aware of the relationship before the younger man was called up. When the affair came to light, the captain was banned from entering any military barracks.
He was able to successfully challenge complete dismissal from the service.