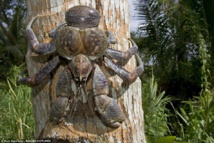 When a 4,000-dollar thermal imaging camera went missing on Christmas Island in the Indian Ocean, there was only one obvious suspect: the giant robber or coconut crab.
The largest land crustaceans in the world, robber crabs can grow up to 1 metre wide and are known for their curiosity and kleptomaniac tendencies.
Now they have been blamed for destroying and stealing a camera belonging to a team of scientists studying the island's native flying fox.
Researcher Annabel Dorrestein of Western Sydney University said this is not the first time the crabs have attacked and that she had repeatedly had to rescue equipment from the crustaceans over the past months.
"They have been bothering me ever since I started my PhD," she told Australian broadcaster ABC. "Dragging away cameras. I just see them and I run after them and they let go and I retrieve my equipment. But not this particular time."
This time, Dorrestein said she and her team had set up the thermal camera to record activity at a mango tree overnight. The following morning, the camera was gone.
The tripod had been knocked over, and the team found claw marks where it had been attached to the camera.
"So basically, a big robber crab ripped the thermal camera off the spotting scope and mangled the cables so it came loose and just dragged it into the forest," Dorrestein told the broadcaster.
The team searched for hours, but found no sign of the camera. Christmas Island National Park chief ranger Rob Muller told ABC that robber crabs were known for their curiosity and light fingers.
If the creatures, which can live for up to 80 years, found something interesting, they liked to drag it away to inspect it closer, he said.
Christmas Island belongs to a remote Australian territory of the same name off the southern coast of Indonesia.