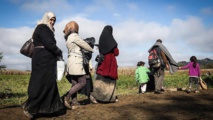 "There is no difference between what the Nazis did and those images at the Greek border," Erdogan told his party group meeting in Ankara, showing footage of Greek police firing tear gas at migrants as they attempted to break through the border.
His remarks come two days after a meeting with top EU officials in Brussels. Erdogan is expected to meet the leaders of Germany and France in Istanbul on March 17 to discuss migrants.
Erdogan further said four migrants were killed attempting to enter Greece, accusing the EU of ignoring "inhumane" and "barbaric" actions by Athens.
Greece has denied the allegations.
Turkey did its part to block the migrant influx to Europe while the EU did not fulfil its commitments as part of a 2016 pact, including sending financial aid and accelerating Ankara's EU accession talks, Erdogan argued.
Turkey will keep its border gates open until the EU meets Ankara's demands, including "freedom of movement, opening of [accession] chapters, updating the Customs Union deal and financial support," Erdogan said, adding.
"The irregular migrant influx towards Europe will not only be limited to Greece but will spread to the entire Mediterranean as the weather gets warmer," he added.
Notepad