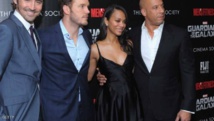 "The offensive attitudes and statements discovered on James' Twitter feed are indefensible and inconsistent with our studio's values, and we have severed our business relationship with him," Disney chairman Alan Horn said in a statement widely shared by US media.
In a statement published by the Hollywood Reporter magazine, Gunn said in response that he regretted and took full responsiblity for the tweets.
On Thursday, Gunn also spoke on Twitter about the old posts, saying that while he viewed himself as a "provocateur" who told "jokes that were outrageous and taboo," his "days saying something just because it's shocking and trying to get a reaction are over."
"It's not to say I'm better, but I am very, very different than I was a few years ago," the 51-year-old American added.
In one of the tweets, which dated mostly from 2008 to 2011, Gunn wrote: "The best thing about being raped is when you're done being raped and it's like 'whew this feels great, not being raped!'"
Gunn wrote and directed the two previous "Guardians of the Galaxy" films, and had been due to release a third instalment in the series in 2020. It was not clear who would now direct the film.
The old tweets were unearthed then published by the conservative Daily Caller news website, prompting calls for Disney to sack Gunn.
Gunn has been an outspoken critic of US President Donald Trump and said in December that he did not care if his stance resulted in him losing fans.