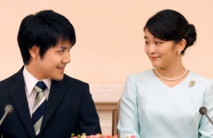 Japan's Princess Mako
The wedding will take place at Tokyo's Imperial Hotel on November 4, 2018, according to the announcement.
Mako, the older daughter of Prince Akishino, met Komuro five years ago when they were students at the International Christian University in the Japanese capital.
Komuro, who currently works at a law firm in Tokyo, reportedly
proposed a year after they started going out.
They announced their engagement in September. A traditional engagement celebration is planned for March 4, the Imperial Household Agency said.
The announcement was postponed in July, when torrential rains caused mudslides and severe flooding on the southern island of Kyushu, leaving 36 dead and five unaccounted for.
Princess Mako will become a commoner when she marries. Female members of the Japanese imperial family have to give up their status as members of the Imperial household once they marry non-royals.
Mako's younger brother, 10-year-old Prince Hisahito, is the only male member of their generation. Crown Prince Naruhito and Crown Princess
Masako have only one child, a daughter, 15-year-old Princess Aiko.
Under the Imperial Household Law, only a male heir can inherit the Chrysanthemum throne.
In June, Japan's parliament enacted a one-time law to allow
83-year-old Emperor Akihito to relinquish the throne.
Japanese media expect Akihito to step down on April 30,l 2019. He will be the first emperor in some 200 years to abdicate.
Crown Prince Naruhito is set to succeed his father as emperor.